The Gujarat Cancer Society has been a leading health organization dedicated to combat Cancer.
Vision
Reducing the incidence of Cancer through prevention and awareness drives, Promoting research and education, and Delivering the best cancer care services to the community at the lowest possible cost.
Mission
To create public awareness that cancer is preventable and curable.
To facilitate early detection through health check-up programmes
To conduct Education and Research related to Cancer.
To serve cancer patients by offering medical aid and medicines at subsidized rate.
To offer palliative care to terminally ill cancer patients at hospice and through home care service.
Core Values
G Growth (Development) of all
C Care of Patients
S Service to the society
The Gujarat Cancer Society Best NGO Award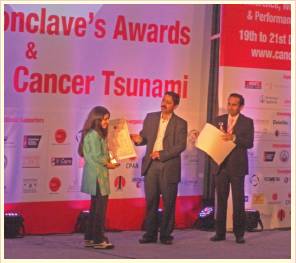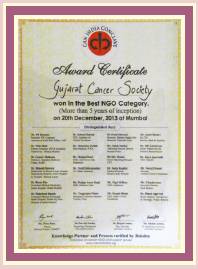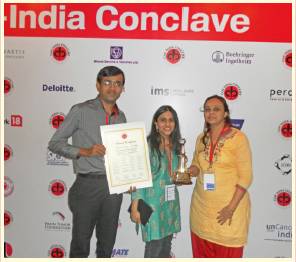 After years of services to the Cancer Patients we are proud to receive an Award in the Best NGO category at Can India Conclave held at Mumbai on December 20, 2013.
Services and Activities
The Gujarat Cancer Society has been serving the society for over 6 decades. It has three key institutes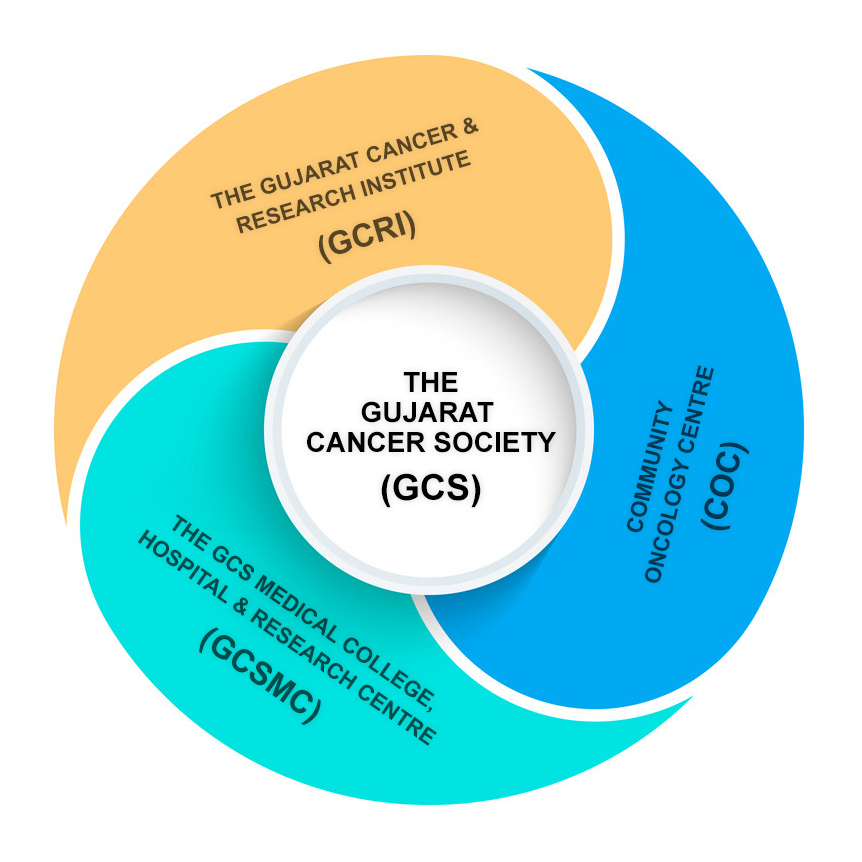 Gujarat Cancer Research Institute (GCRI) is located at Ahmedabad city. It is equipped with the state of the art medical and research facilities related to cancer. On an average, 1000+ cancer patients are served at its OPD on daily basis. In addition to this, 600+ in-patients avail cancer treatment at GCRI. GCRI has also played a major role in Cancer research as well as prevention through early detection.
GCS Medical College, Hospital & Research Centre, GCSMCH&RC has a 450 beds advanced, multi speciality hospital along with medical education facilities for 150 undergraduate & 64 postgraduate students every year. While serving patients, the institute prepares a pool of trained medical professionals. The GCSMC has renowned and experienced faculty and staff.
Community Oncology Centre of GCS (COC) serves the community for cancer awareness, early detection, health check-up, Hospice and Home care. Its serene campus located amidst the dense part of Ahmedabad city is conveniently approachable by patients. COC hosts an exhibition as well as conducts training events related to cancer awareness.
GCS provides medicines at cheapest rates to nearly 2 lakh cancer patients per year through T B Patel Drug Bank. GCS is committed to attend patients all types of needs through "Poor Patients Relief Scheme".
The Journey
The will of the ladies members of the Inner Wheel Club to ameliorate suffering and agony of patients with cancer crystallized into formation of the Gujarat Cancer Society on 02 April, 1961 under the presidentship of H E Shri Nawab Mehdi Nawaz Jung, Governor and adopted the first constitution with first elected Governing Council on 27 Mar 1962.
Later on with a donation of £ 55000 from Shri M P Shah, a philanthropist from London, and leasing of land from Govt. of Gujarat, jointly germinated the seed into M. P. Shah Cancer Hospital in the year 1962, which later metamorphosed into The Gujarat Cancer & Research Institute (GCRI).
GCS Major Milestones - Year 1961 to 2020
Formation of The Gujarat Cancer Society, 02 Apr 1961
Cancer Hospital Building construction, 27 Mar 1962
Start of Out Patient Department on 02 Oct 1965
Start of Radiation Oncology started with an Isotope Unit by GOI in 1965
Inauguration of The M P Shah Cancer Hospital by Smt Indira Gandhi, H'oble Prime Minister of India, in presence of H E Governer of Gujarat, Dr Kanugo, on 14 Dec 1966
Autonomous status to the M P Shah Cancer Hospital by Govt. of Gujarat in 1972.
A tripartite agreement of govt of Gujarat, The Gujarat Cancer Society and The Gujarat Cancer & Research Institute came into existence with effect from 01 Feb 1972.
Start of modern Intensive Care Unit and Pain Clinic in 1973
Radiation Oncology received its second cobalt unit in Oct 1973.
Shri Kasturbhai Lalbhai Research Centre was established for Cancer Research on 01 Nov 1979
Inauguration of Shri Navnitlal Ranchhodlal CT Scan Centre on 11 Oct 1984
Community Oncology Cantre & Hospice Complex inaugurated by H E President of india, Shri Venktaraman on 04 Apr 1988
Radiation Oncology received its first Linear Accelerator II on 31 Dec 1990
Inauguration of "Smt Indumatiben Jivanlal Kinarivala Paediatric Oncology Centre", First in Country on 14 Jun 1992
Opening of "Shri Hiralal H Bhagwati Interventional Therapy Unit on 22 Dec 1993
Opening of "Shri Madanmohan Ramanlal Radiotherapy Centre" in Jan 1994
Inauguration of "Shri Ramniklala Kinarivala New OPD Building" on 20 Jun 1997
Shri Ambalal Ranchhoddas Choksi Bone-Marrow Transplantation Unit" was started on 02 Apr 2002
Govt handed over the land of New Swadeshi Mill for GCS Medical College to GCS in Sept 2009. Bhoomipujan 12 Dec 2009
The first batch of MBBS students got enrolled at GCS Medical College (GCSMC) on 01 Aug 2011.
GCS Received "Best NGO" award at Can India Conclave held on 20 Dec 2013 at Mumbai.
MCI approved Postgraduation in various specialties at GCSMC in Apr 2017
Gujarat Cancer Society - Road ahead
GCS has plans to expand health care services to Non-Cancer patients along with continuing its commitment to cancer patients. GCS shall support patients of super-specialty services like Dialysis, Cardiac care & Pain management. GCS has planned to extend its services to other geographical areas.
GCS wishes to expand its cancer awareness & detection drive through updated tests, like Liquid Based Cytology for detection of Cancer of cervix, modern mammography & sonography techniques. It also plans to start a de-addiction centre.
Gujarat Cancer Society (GCS) - Team
GCS is managed by its board of trustees headed by H E Governor of Gujarat and participated by representatives of our esteemed donors. Its affiliated institutions are headed by Director / CEO supported by administrative and medical team members.
GCS Board of Trustees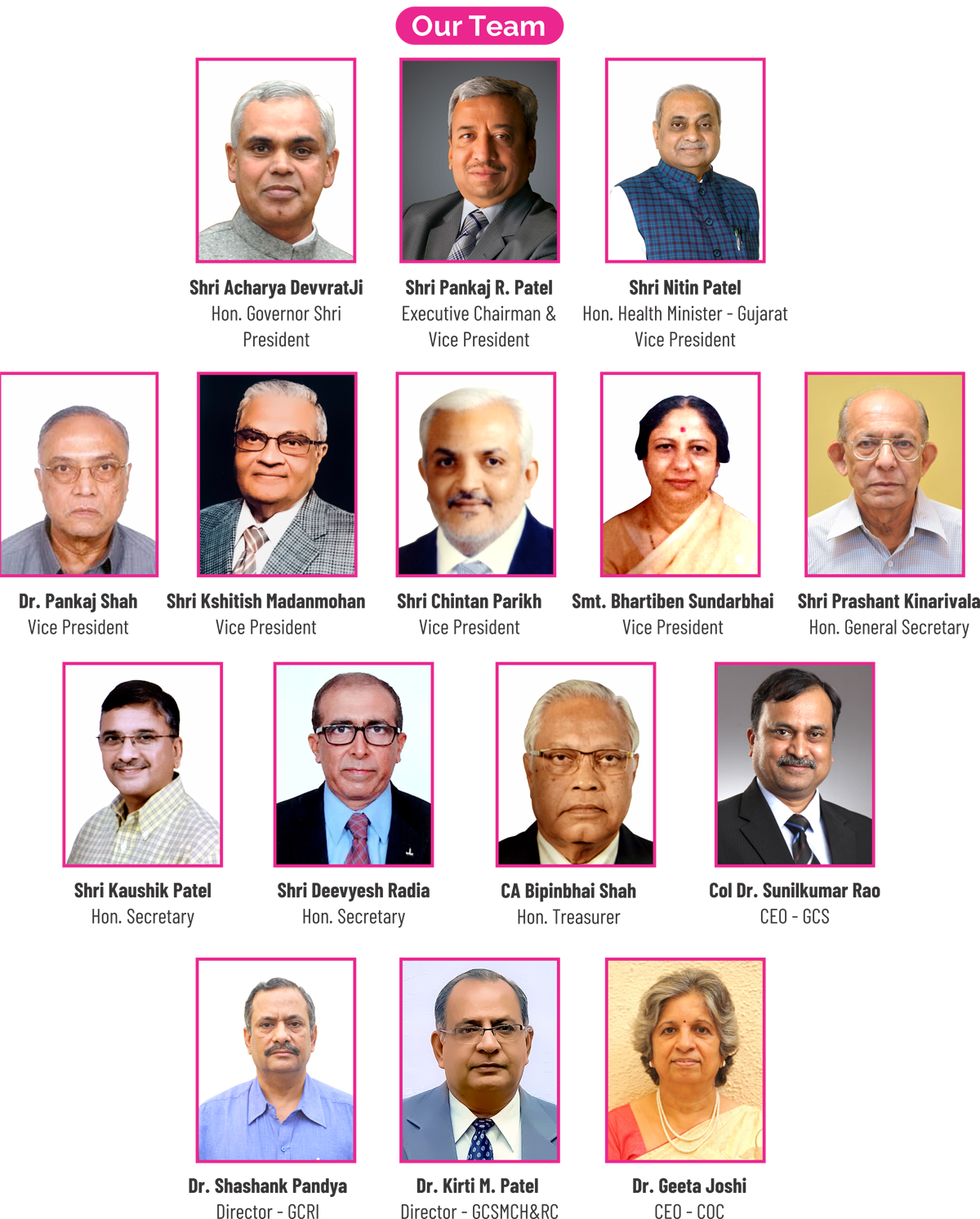 GCS

Sr. No.

Name

Designation

Phone (Landline)

Email

1

Shri Kshitish Madanmohan

Vice President

+91-79-22688080
+91-79-66048000

madanmohankms@gmail.com

2

Col Dr Sunilkumar Rao

CEO

+91-79-22688080
+91-79-66048000

sunilkumar.rao@gcsmc.org

3

Shri Prashant Kinarivala

Hon Gen Secretary

+91-79-66048000

kinarivala@rjkgroup.com

4

Shri Kaushik Patel

Hon Secretary

+91-79-66048000

kdvspice@yahoo.com

5

Shri Deevyesh Radia

Hon Secretary

+91-79-66048000

djradia@gmail.com

6

Mr Hemal Shah

Officer - Accounts

+91-9376904690
+91-79-66048000

hemal.shah@gcsmc.org

7

Mrs Jagruti Patel

Sr Executive

+91-9687232981
+91-79-66048000

jagruti.patel@gcsmc.org
GCRI

Sr. No.

Name

Designation

Phone (Landline)

Email

1

Dr Shashank Pandya

Hon Director

+91-79-22688001

director@gcriindia.org

2

Dr Ms Pariseema Dave

Dy Director

+91-79-22688004

pariseema.dave@gcriindia.org
GCSMC

Sr. No.

Name

Designation

Phone (Landline)

Email

1

Dr Kirti M Patel

Director

+91-79-66048000

drkirtimpatel@yahoo.co.in

2

Dr Yogendra Modi

Dean

+91-79-66048000

dean@gcsmc.org

3

Dr Bharat Ghodadara

Superintendent

+91-79-66048000

bharat.ghodadara@gcsmc.org

4

Ms Neha Lal

Hospital Administrator

+91-79-66048000

neha.lal@gcsmc.org
COC

Sr. No.

Name

Designation

Phone (Landline)

Email

1

Dr Geeta Joshi

CEO

+91-79-26608448
+91-79-26604023

dr.geetajoshi@gmail.com

2

Mrs Darshana Butala

PRO

+91-79-26623103

cocvasna@gmail.com
Board of Trustees
Name
Shri Pankaj Patel
Shri Prashant Kinariwala
Shri Kshitish Madanmohan
Shri Rajesh Jaykrishna
Shri Navnitbhai Choksi